Meet the Battery Sensor and BMS Community in San Sebastián (Spain)
June 21 – 22, 2023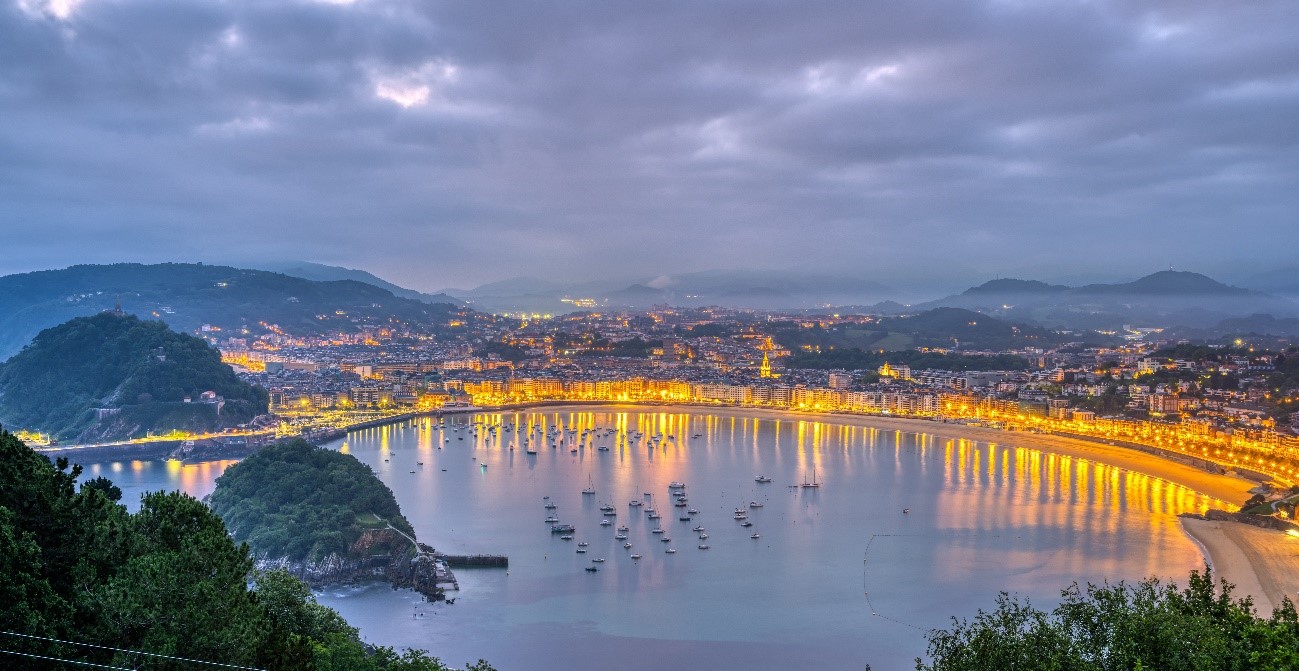 San Sebastian – beach view. Image: CIDETEC
Registration
If you would like to participate in the SPARTACUS Workshop we need some information from you. It will only be needed for the organization and management of the event and will be deleted afterwards, unless you give us permission to contact you later and inform you about project results.
We use a double opt-in, that means, you will receive an email after registering to approve your registration. If you do not receive this email within fifteen minutes after submitting the registration on the website, please check your junk folder.
The email contains a confirmation link, which you should click once. This link will be active for 14 days, if it is not clicked within this time period, the registration will expire and the data will be automatically deleted from our database.
The registration closed at June 11, 2023
There is no participation fee. The number of participants is limited. Therefore, please let us know in good time if you are unable to attend.
Smart sensor batteries and the future battery generation
Two days in San Sebastián filled with exciting reports, discussions and talks. We're looking forward to meeting you at the workshop!
Program
21 June 2023

Day 1

Industrial Workshop

Speakers

 
8:30
Registration & Welcome Coffee
 
 
9:00
Welcome (WS intro & agenda)
Oscar Miguel (CIDETEC energy storage)
Think local, act global
9:10
Regional initiative: MUBIL New Mobility Centre
Ainhoa Saizar Lizeaga (MUBIL)
 
9:30
National initiatives: the PERTE VEC projects – Future:Fast Forward (SEAT) & CAPITAL (IRIZAR)
Víctor Clua (SEAT), Mikel Urcelay (IRIZAR)
 
10:10
CIDETEC Energy Storage presentation
Oscar Miguel (CIDETEC energy storage)
 
10:30
Recharge Coffee
 
The Project
11:00
EU state of play: Battery 2030+ within the EU Batteries Ecosystem
Kristina Edström (University Uppsala)
11:25
SPARTACUS Smart Sensing Batteries – project presentation
Gerhard Domann (Fraunhofer ISC)

11:45

12:00

12:15

SPARTACUS Advisory Board introduction:

ELTEK – Quality sensing for dielectric fluids

TUKE / INOBAT – Corrosion monitoring and prediction of state of health of electrodes in battery systems

VERKOR

Pizzi Marco (ELTEK Group)

Maroš Halama (TUKE)

Gilles Moreau (VERKOR)

 
12:30
Networking lunch
 
A wider industrial stakeholders vision
14:00
Introduction to the afternoon session
Oscar Miguel (CIDETEC energy storage)
14:05
FLASH BATTERIES – Advanced BMS for industrial applications
Alan Pastorelli
14:25
IDNEO – Review of risk assessment for battery management based on centralised and distributed architectures
Antonio Mollfulleda (IDNEO)
14:45
BMW
Franz Geyer (BMW)
15:05
Fast Charge Coffee
 
15:20
IVECO – Battery Aging by Innovative Sensors
Sridhar Manasa, Dr. Neeta Khare (IVECO)
15:40
ZELEROS
Daniel Fons (ZELEROS)
 
16:00
Roundtable battery challenges for e-mobility: FLASH, IDNEO, SEAT, BMW, IVECO
Chair: Gerhard Domann (Fraunhofer ISC)
 
16:30
End of Day 1
 
 
 
 
 
Social event – project team, speakers and guests
19:00
Informal Cocktail in the city
participants of Day 1 and Day 2
 
 
 
 

22 June 2023

Day 2

Synergistic Projects Workshop

 
 
9:00
Introduction to  Day 2
 
Battery 2030+ led Sensing and Self Healing projects
9:10
BAt4EVER – Autonomous polymer based self-healing components for high performant lithium-ion batteries
Maitane Berecibar (VUB)
9:30
The HIDDEN project: Integration of sensors and self-healing functionalities in batteries
Marja Vilkman (VTT)
9:50
Multisensor smart cell platform for operando and in situ monitoring, an INSTABAT project overview
Olivier Raccurt (CEA)
10:10
SENSIBAT – Cell-integrated sensing functionalities for smart battery systems with improved performance and safety
Iñigo Gandiaga (IKERLAN)
 
10:30
Working Coffee
 
Broadening horizons session
11:00
SPARTACUS Smart Batteries – Focus into sensor development and integration
Johannes Ziegler (Fraunhofer ISC)
11:20
Advanced sensors and algorithms from COBRA project
Lluís Trilla (IREC)
11:40
SENSE – Competitive next-generation European lithium-ion battery technology
Alessandro Mariani (FPT)
12:00
HYDRA – Enhancing battery sensor data with semantic mappings
Simon Clark (SINTEF)
12:20
PHOENIX – Advancing Sustainable and Smart European Batteries: Exploring Self-Healing and Sensing Functionalities
Pavlo Ivanchenko (VUB) 
12:40
Roundtable – New frontiers in smart battery cell technologies and LCA
Chair: Maarten Messagie (VUB)
 
13:15
End of the Day
 

Got any questions?
Don't hesitate to contact us!